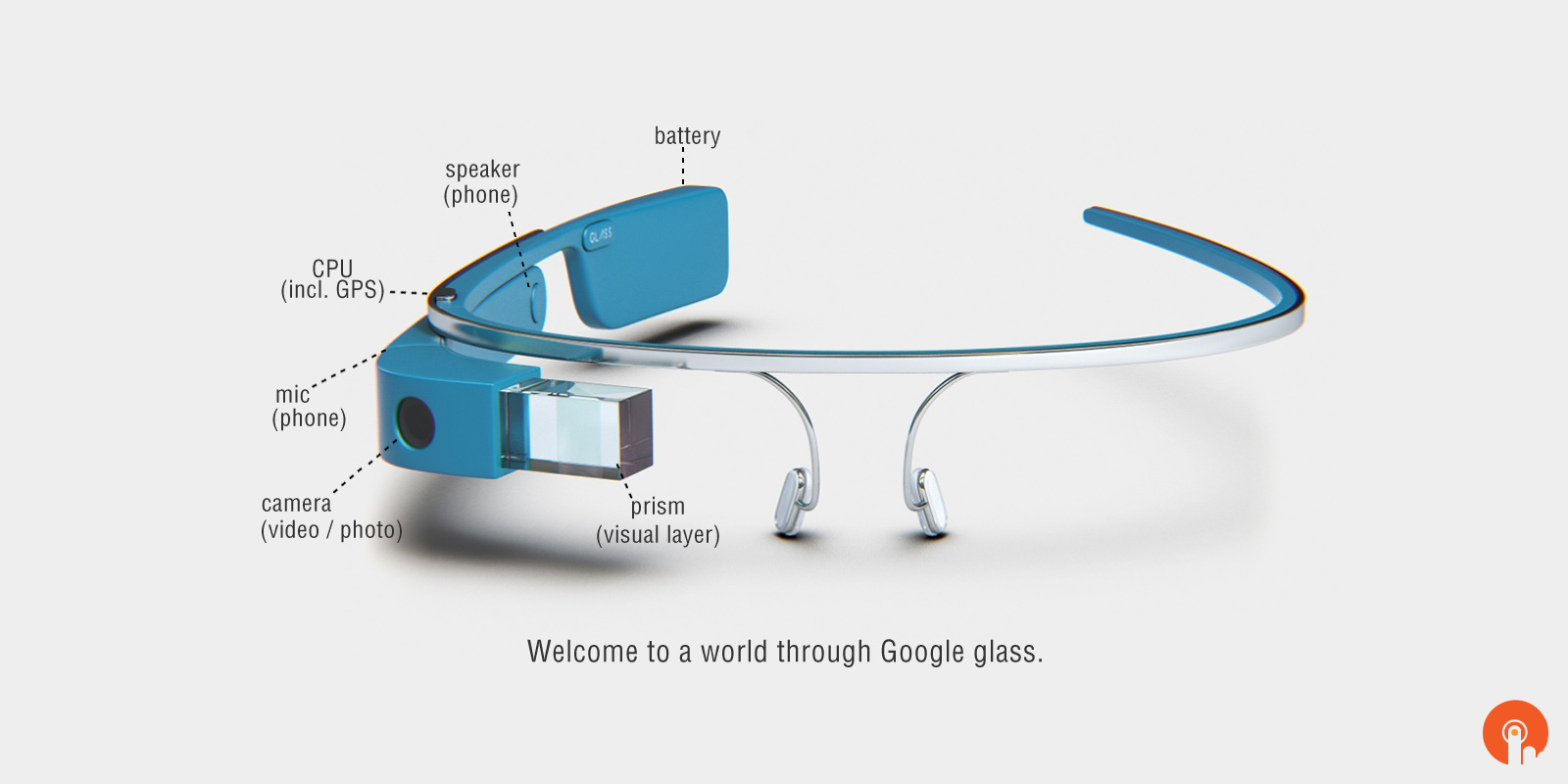 Wearable technology "Google Glass" with android operating system
What is Google Glass
Google Glass was developed by Google It is a type of wearable technology with an optical head-mounted display.This wearable technological device was developed by Google X the facility within Google devoted to technological advancements.The product began testing in April 2012. Sergey-Brin wore a prototype of the Glass to an April 5, 2012.Google Glass displays information like hands-free format. Google is in partnership with the Italian eyewear company Luxottica, owners of the Ray-Ban.
Google started selling Google Glass to qualified "Glass Explorers" in the US on April 15, 2013.On purchasing of google glass four prescription frame choices for $225.00 U.S and free with the purchase of any new Glass unit. Google glass is under development technology which is evolve day by day.
Feature
In google glass touchpad is located on the right side of Google Glass, allow user to control. Sliding backward shows current events,such as phone calls, photos, circle updates, etc.
For display google glass use LCOS (Liquid Crystal on Silicon).
Google glass has one camera which can use to capture picture and to record 720p HD movie.
Google glass come with one of the advance feature voice command. To activate google command hold touch pad and say 'ok google' after start the google voice command user can give command like take a picture and record video etc.
Applications
Google glass come with built in application like Google now, Google Maps, Google+. Google Glass use Android operating system one of the popular operating system use in mobile device. Many developers and companies have built applications for Glass, including news apps, facial recognition, exercise, photo manipulation, translation, and sharing to social networks, such as Facebook and Twitter
On 8 October 2014, at the Frankfurt Book FairThe European University Press published the first book to be read with Google Glass. The book can be read as a normal paper book or – enriched with multimedia elements – with Google Glass, Kindle, on Smartphone and Pads on the platforms iOS and Android.
Google glass also play an major role in health care using one of app name Medopad doctors can access patient records, interact to each other during surgery with up to 5 other doctors by sharing what they are viewing.
An electronic medical record company has developed a new application name Drchrono app for the device it claims is the first "wearable health record. This app was mainly developed for doctor's.
Doctors who register for the app for Glass can use it to record a consultation or surgery with the patient's permission. Patient record can be store on cloud storage which can be share with patient.
privacy concerns
Many of Concerns have been raised by various sources because of privacy Intrusion, Using the device in public and recording people without their permission.
Google Glass would violate security problems and privacy rightssuch aspeople wearing such eyewear may be able to identify strangers in public using facial recognition, or surreptitiously record and broadcast private conversations.
There is another Concerns have been raised by cyber forensics experts at the University of Massachusetts .They developed a software that uses google glass use to capture as someone types in their password. The program then converts the touch points into the keys they were touching, allowing them to obtain user passcode.