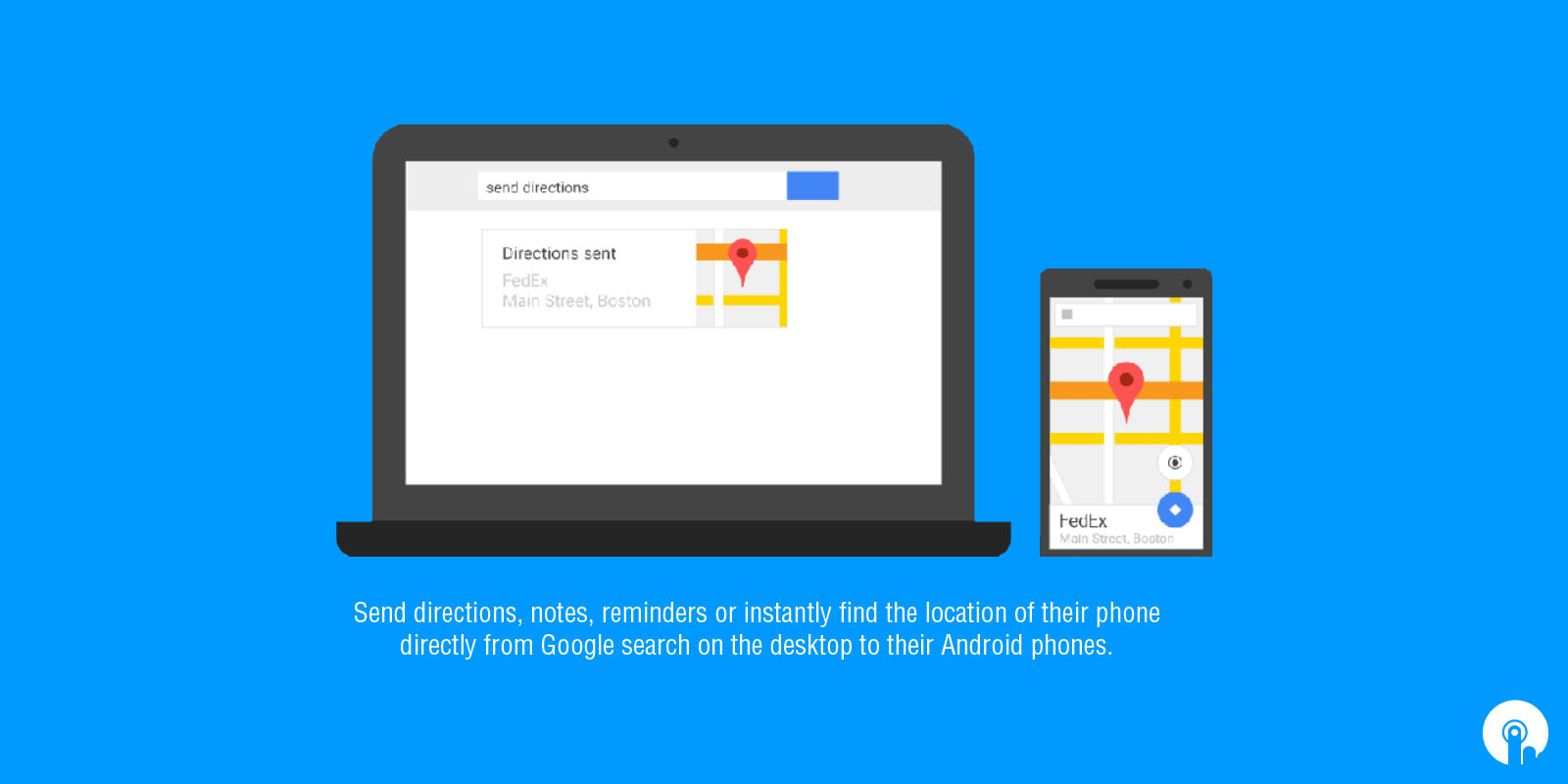 Android Users Can Send Directions Via Google Search
Google Search commonly referred to as Google Web Search or just Google. Google Search provides many different options for customized search but now Google's taking small steps to more intimately connect your Android phone and desktop computer. Google has rolled out a new feature for android user where in users can easily send directions, notes, reminders or instantly find the location of their phone directly from Google search on the desktop to their Android phones.
If your Android device is updated and has the right settings enabled , you can simply type "send a note to my phone" or "send directions to my phone" directly into the search bar. Doing so will open up a little Google Now-style card that will let you type in your note or specify the directions that you're looking for. Google will then send the data to your phone as a notification. Other than directions or notes, you can also send reminders, set an alarm, or instantly find the location of your phone directly from the Google search bar on your desktop.
That's because Google introduced a Chrome extension called Chrome to Phone that would allow you to push links from your desktop to your phone with a single click. The new system, built directly into the Google search bares far simpler, and can be seen as a response to Handoff, a highly-publicized feature in iOS 8 that makes it easier to pick up where you left off when switching between your phone and computer. This new feature can be seen as an extension of Google's already-great syncing between its Chrome desktop browser and its Android operating system.
Here we will define the basics functionality of this new feature.
Send links between devices:- From your desktop, using the Chrome or Firefox extension, you can send a link to your phone or tablet with the click of a button.
Open an address in your maps app:- One of the things about Chrome is that moving a Maps location from your desktop to your phone is a little harder. If you're in Maps on the desktop, you can send a link from where you're at. You can also send an address without opening up Maps at all with the address function. Both options open directly in the Maps app on Android.
Perform Search Direction:- As long as you are signed into your account, Google knows the location of your phone and you can type in your desired destination. Once you've obtained directions, just hit 'Send directions to my phone' and you're ready to hit the road.
Various Applications:- Lucky there are various special software supports this feature for all of us. The free included software is perfect. It uses iCloud to push directions. The desktop dedicated client sends directions to any device, then one click to start there is amazing app out there, that allows you to get all your notifications from your Android phone or tablet(i.e. Puss bullet).This Push bullet app provide bridge between your mobile and desktop Oases and various other features.
Just like-
You could also push data in the reverse direction: from your phone to your computer.
Copy files to other devices.
Push a link to someone else's phone.