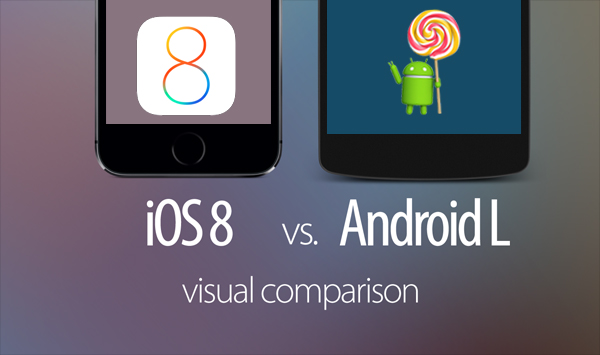 Comparison Between Android 5.0 Lollipop and Ios 8
One of the most interesting rivalries in the modern history is between Nikola Tesla and Thomas Edison.
Today, Google's Android and Apple's iOS rivalry is the talk of the town. Currently, the rivalry between Android 5.0 Lollipop and iOS 8 is the latest news brewing in the market. Both operating systems introduce updated interfaces, new ways to interact with notifications, updated security features, designs, keyboards and more. So which software release is better for business users?
Well, Android Lollipop does provide more features than iOS8.
But, let us compare the two based on some of their features to form our opinion as to which is better for us.
Design
Android apps have been updated with its "Material Design". Streamlined interfaces, and apps in general have a more consistent look across the board and it even offers the developer to use that design in their android apps.
iOS 8 design is similar to its iOS 7. iOS 8 is introduced with a flatter icons and cleaner layouts.
Security
iOS 8 has its Touch ID fingerprint scanner on all of its new devices like iPhone 5S, iOS 8 is the clear king of smartphone security .It will be opened up with iOS 8, so users will be able to use their fingerprint to access other apps The Android security is called Trusted Places. It will allow user to unlock there device without entering the password. There will be unlocked when they are close enough to the device like Android SmartWatch.
But the drawback of both the OS security is everyone cannot use this security feature until they have iPhone 5S or Android Smartwatch.
Battery life
We can't say exactly how Android Lollipop and iOS 8 will affect the battery life of the devices. But Android Lollipop has an additional battery saving mode which iOS 8 doesn't. Android Lollipop coming with the new battery saving mode which give the Nexus 5 90 minutes more battery life but the battery life of iOS8 is similar to the old operating systems of Apple.
64-bit
Android Lollipop represents the first time the operating system that has been compatible with 64-bit devices which means speedier and smoother performance and a big power boost for Android devices. iOS 8 is continuing with the same as in iOS 7.
Conclusion
So, we can conclude that it depends on priorities that which operating system has best feature from the business point of view. Android 5.0 Lollipop is all about new features, new design, and better security and with long battery life. Meanwhile, iOS 8 is more about refining the experience introduced with iOS 7. It's still beautiful, secure and gives good experience to work on, and it still supports the best library of business and productivity apps on any mobile platform.