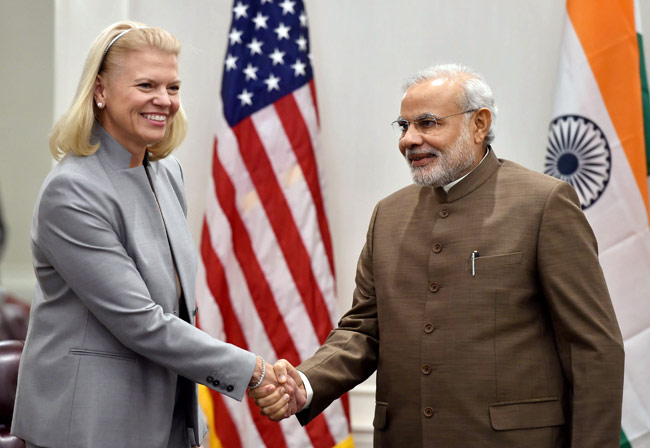 Narendra Modi, IBM CEO talk about Smart Cities & Digital India
US-based global technology giant IBM today articulated keen interest in partaking in India's newly-launched proposals like Smart Cities and Digital India, as its CEO Virginia Rometty met PM Narendra Modi here.
With a worldwide turnover of almost $100 billion, IBM is a main player in India and makes use of a large workforce in the country.
Almost one-third of its global workforce of over four lakh persons is in India, where its headcount surpasses even that in the US.
The congregation between Modi and Rometty was part of a series of one-on-one meets the PM had here with pinnacle business leaders of the US on his last day in New York.
The PM is also probable to convene business leaders in Washington during the second leg of his five-day visit to the US.
During her meeting with Modi, Romnetty talked about "software for Smart Cities and Digital India initiatives," external affairs ministry spokesperson Syed Akbaruddin tweeted.
Amongst other places, IBM has its amenities in 14 Indian cities, including Bangalore, Delhi, Mumbai, Chennai and Hyderabad.
Other business leaders who had one-on-one meetings with the Prime Minister included KKR CEO Henry Kravis and CEOs of BlackRock, GE and Goldman Sachs.
Earlier today, Modi also had a breakfast meeting with CEOs of 11 large American corporations.
These included PepsiCo CEO Indra Nooyi, Google chairman Eric Schmidt, Citigroup chief Michael Corbat, Mastercard CEO Ajay Banga, Cargill's president and CEO David W MacLennan, Caterpillar's Douglas Oberhelman, AES's Andres Gluski, Merck's Kenneth Frazier, co-founder and co-CEO of Carlyle Group David Rubenstein, Hospira's Michael Ball and Warburg Pincus's Charles Kaye.